Media
Inquiries
Contact Monica Strobel directly at Monica@MonicaStrobel.com or 720.491.1410 (Denver, Colorado, USA, MT)
DOWNLOADS: Media One-Sheet; Book Cover Graphic; Monica Strobel Photo.
(more media materials and interview / segment suggestions follow below appearances list See all MEDIA CLIPS VIDEOS HERE)
SAMPLE NEWS RELEASE (More Below): Add Compliments to Menu for Happier Holidays
MEDIA Interviews/Appearances:
TV
(Mixed Clips Video above, More TV Clips HERE)
TV Los Angeles KTLA-TV  Power of Giving and Compliments Author Monica Strobel 9-19-11 with Morning News team Michaela, Erica, Sam and Mark. Sept 19
TV The 10! Show NBC 10 Philadelphia Rev-up Your Romance with More Compliments. Feature segment with Lu Ann Cahn

TV San Diego Morning News FOX 5 How Compliments Arouse Romance, withShally Zomorodi, morning news anchor and Compliments and Work and Parenting Success, with Erica Fox, morning news anchor.
TV Charlotte Today WCNC NBC Giving and Receiving Compliments segment; 5 tips for meaningful compliments with Colleen Odegaard and Rob Tanner
TV 7News The Denver Channel Weekend-Morning: Add Compliments to the Menu for Happier Holidays; 5 tips to reduce stress with compliments with Anchor Christine Chang
TV New Day Cleveland, FOX-8, Cleveland, OH, Feature segment with Kristi Capel, 5 tips How Compliments Boost Romance
TV FOX23 Morning News Albany The Power of Compliments, Raising Confident, High Achieving Kids
TV Pittsburgh Today Live KDKA-TV Segment: Create More Joy by Giving More Compliments  with "5 Ways to Give More Meaningful Compliments." Feature segment with Kristine Sorensen.
TV KKTV-11 CBS Noon News Tips for Giving More Compliments for Happier Holidays December 14
TV Good Day Colorado, Fox 31, Denver feature segment, How to Give a Great Compliment. On-the-set interview with Melody Mendez. June 8, 2011
Web TV HuffPost Live interactive web interview Compliments: Help or Hurt?
TV CBS 11 Colorado Springs KKTV Noon News Feature with Stacia Naquin, Power of Compliments May 10, 2011,
WEB TV The Bouncing Back Now Show on Real Coaching TV, One-hour Skype feature interview with Donna Marie Thompson (April 20, 2011)
RADIO / PODCASTS
Radio FMMY Talk Radio. Hour episode of "From My Mamas' Kitchen" BlogTalk Radio with Johnny Tan, author and personal leadership expert, Art of Compliments.
Radio KEDT Public Radio "Mid-day Report" Interview with Shane Barker (South Texas Public Broadcasting) May 24, 2011
Radio Family Talk Radio, Half-hour interview with Dr. Daisy Sutherland aka "Dr. Mommy" "How Giving a Compliment Will Boost Your Joy" May 25, 2011
Radio Boomer Nation Radio, 860 AM/WLSS 930 AM Sarasota, FL, Interview with Terri Benincasa "You Loook Maaaahvelous!"June 5, 2011,
Radio Dresser After Dark, Interview on the Power of Compliments, with Michael Ray Dresser, Milwaukee, WI June 3, 2011,
Radio DivaTalkRadio Interview with Kelli Claypool, why and how women benefit from giving more compliments and a complimentology approach to successful relationships www.divatalkradio.com
Radio The Power of We radio interview with Maryanne Comaroto and David Raynal, Great Relationships and The Compliment Quotient show (45 minutes).
Radio WGCV  620  S Carolina  Health, Wealth and Happiness Gary Pozsik Half-hour Interview
PODCAST Stay Happily Married show, with Ned Daze in the segment: Look at Him with Fresh Eyes, Podcast Interview featuring secrets to restoring the luster in your relationship with compliments. (April 13, 2011)
Radio WTOP Morning News segment, Can you ever compliment at work? YES and no
Radio,  ConsciousSHIFT One-hour interview with Host Julie Ann Turner "Toward A Compliment Culture"
"It was wonderful to showcase you and your wonderful work(s) with the CONSCIOUSSHIFT audience!" Host Julie Ann Turner, Dec. 3, '10
PRINT
Print COSMOPOLITAN Expert resource for Love & Lust FOR KEEPS "Is it okay to flirt?" Columnist Kristina Grish
The Denver Post, "Improve Your Relationships with Compliment Quotient"
 CEO Blog Nation Gain a competitive advantage through appreciation
"World could use 'complimentology'" Real Life » Cathy Dyson; Fredericksburg, VA The Free Lance-Star
CEO Blog Nation Gain a competitive advantage through appreciation
Behavior and Relationships Ezine Q & A Interview with Michael Toebe
PUBLIC EVENTS
University of Denver, publishing panel forum, with Jo Myers, Reggie Rivers and Patti Thorn
Author Openhouse and Book Signing Littleton, CO
Community Open House Series and Book Launch Fredericksburg, VA- "Complimentology" Understanding the power of compliments: Uncovering the 5 myths of compliments to transform your life, relationships, the world.
"Thanks for organizing today's talk on the power of complements. I agree wholeheartedly in the importance of joyfully giving away something that costs nothing and means the world to the person receiving the complement." Bernadette Hyland
Multiple prior news interview appearances in past 15 years, including:
December 2, 2009 9News Mornings KUSA – 6:20 Sidebar (for the Share A Cycle Program)
http://www.facebook.com/profile.php?id=1387845793&v=wall&story_fbid=201022207216
MEDIA RELEASES, SAMPLING
Media Release – 5 Tips to Use Compliments for Happier Holidays 11-15-11
Media Release and Review Survey Indicates Lack of Compliments Mirrors Relationship "Glitch" 4-5-11
Media Release – Couples Rekindle Missing Passion with More Compliments 2-9-11
Media Release – Unleash the Power of Compliments for More Joy, Kinder World_1-26-11
Newest Imprint Nancy Cleary, publisher, Wyatt-MacKenzie Publishing
Photos – Monica Strobel Head Shot; The Compliment Quotient Book Cover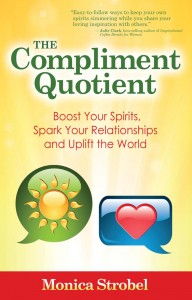 (to download photo or graphic: right click, save as)
Interview / Segment Ideas
Invite Monica , America's Complimentolgist, Appreciation & Inner Greatness Igniter, to talk with you and/or your audience (Upbeat, positive, fun, engaging talent):
Ask Monica for 5 Tips segment ideas sheet, by topic
Suggested Questions
Why are compliments more powerful than we think? (Three myths)
How do compliments spark romantic desire? (Four relationship tips)
What makes a great compliment and what are some juicy examples? (Three essentials)
Why we don't take compliments well and how to change this (Three tips)
Compliments vs brown-nosing or come-ons? (Three tips)
What qualities/virtues/spiritual fundamentals are rolled up into a compliment? (Five examples)
Interactive Opportunities
Ask listeners/readers to call/comment with:
♦ the most memorable compliment listeners/readers ever received- and why
♦ who they compliment most and why
♦ do we have to compliment members of the opposite sex differently these days?
♦ the go-to compliment they use
♦ whether it is okay to compliment on looks
♦ whether you can ever compliment too much
♦ whether men and women compliment/appreciate compliments differently
Comments